History of SysMus
In 1885, music research was already being carried out in a wide range of contrasting disciplines. The best music researchers at that time were German-speaking, and included: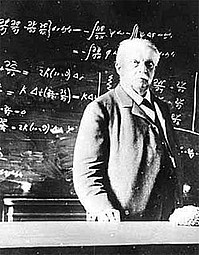 the physiologist and physicist Hermann von Helmholtz (shown here) and his psychophysics of music perception including the theory of roughness
the philosopher and psychologist Carl Stumpf, well known for his theory of consonance based on the perceptual fusion of complex sounds and his book on the origin of music that surveys old and new theories of the origins of speech and singing, polyphony, rhythm, and so-called primitive instruments;
the philosopher and psychologist Theodor Lipps and his introspective, psychoanalytical theory of aesthetics and artistic empathy;
the physician and anatomist August Knoblauch and his neuropsychological approach to understanding music cognition and disabilities such as amusia;
the comparative musicologist and music psychologist Richard Wallaschek and his theories of musical emotion and cognition;
and the universal music scholar Hugo Riemann and his influential theories of musical perception and structure including harmonic functions, melodic phrasing and aesthetics, as well as practically oriented writings in areas such as musical expression, piano pedagogy and composition.
Guido Adler realised that if musicology was to be a united discipline then it would be necessary to regard historical and systematic musicology as equally important and to promote both the independent development of these disciplines and constructive interactions between them, despite difficulties of communication due to epistemological differences.
Today, the biggest subdiscipline of systematic musicology (in terms of experts, conferences, publications, and journals) is music psychology (more broadly: music cognition), which also has a long history. Ancient Greek philosophers considered music psychological issues that are still relevant today, including perception of musical structure, emotion and meaning, psychological and social functions of music, music and personality, social identity, and morality. Music psychology bloomed in Central Europe in the 19th and early 20th centuries. The discipline was boosted by the "cognitive turn" in psychology in the 1960s and has been thriving and expanding since then.
Contact
Office and Library
Glacisstraße 27, 1st floor
A-8010 Graz
Library Opening Hours:
Wednesday: 10am - 1pm
Friday: 11am - 2pm

Only during the semester, on days when there is teaching.

Contact
Head of Centre
Prof. Dr.
Richard
Parncutt